The Big Sur International Marathon has made arrangements to run a shuttle for runners staying in Big Sur to get to the race start of their event. There will be a shuttle that makes a continuous loop with stops at all facilities between the River Inn to the north and Big Sur Lodge to the south. Runners should stand near Highway One where they will be visible to the drivers. They will then be taken to the bus drop off area at the entrance to Pfeiffer- Big Sur State Park where marathoners will then walk south to the marathon start and any runners participating in other events (21 and 10.6 Milers, 12K, 5K and Marathon Relay) will board another bus heading north to the various start lines or Relay exchange points.

The shuttle will be available to runners and walkers only...their bib number will identify them as runners to the bus drivers.

View Larger version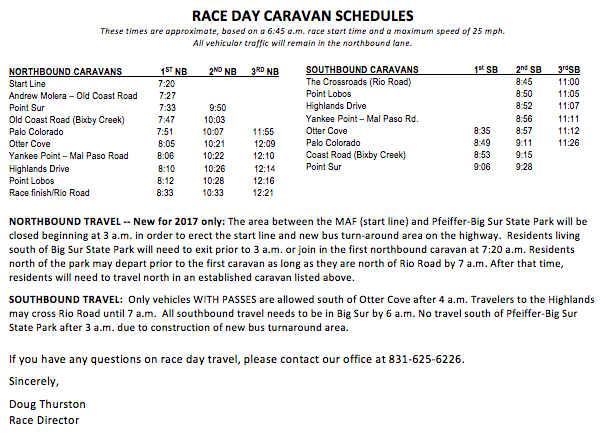 Any hotel guests or runners' friends and family members needing to head north or get to the finish in advance of your runner should leave at the following times: Prior to the race start, no later than 6 a.m., or with a CHP-led caravan leaving at 7:20 from the start line at the Multi-Agency Facility or 9:50 from Pt. Sur (approximate arrival to finish line at 10:33). We strongly suggest that you choose the prior to 6 a.m. departure so that you may enjoy the morning in Carmel or on the Monterey Peninsula while waiting for your runner.

For more information regarding restricted traffic flow, local traffic, etc., please download the 2017 Caravan Schedule.
For more information about the annual Big Sur International Marathon, please refer to the Big Sur International Marathon website.