Pfeiffer Big Sur State Park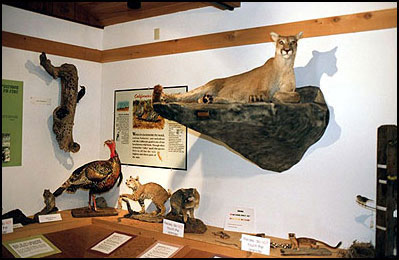 Information center at Pfeiffer Big Sur State Park at the trailhead of Pfeiffer Falls
Pfeiffer Falls:
1.4 miles roundtrip, easy. A scenic hike along Pfeiffer Big Sur Creek through one of the park's finest redwood groves ends at a 60-foot high waterfall.
Valley View:
2 miles roundtrip from trailhead or 1/2 mile from Pfeiffer Falls; easy. To beautiful views of Point Sur and the Big Sur Valley.
Oak Grove Trail:
3 miles roundtrip from the entrance to Pfeiffer Big Sur State Park, easy to moderate hike. This trail intersects with the Pfeiffer Falls trail. There is a variety of ecosystems beginning with redwood groves, open oak woodlands, and dry chaparral.
Buzzard's Roost:
4.8 miles round trip loop, moderate. Along shady redwoods to a switchback trail through tan oaks and bay trees, peaking at Pfeiffer Ridge with beautiful coastal views.
Mount Manuel Trail:
Beginning at the Oak Grove Trail, 8 miles roundtrip, strenuous. A steep climb to the top of 3,379 foot Manuel Peak.
---
Contact Information
To get the latest trail information for all of Los Padres National Forest call 831.385-5434

For local Big Sur trail information and for getting your backcountry permits and where to pick them up in Big Sur, call the "Big Sur Station" at 831.667-2315
Andrew Molera State Park

Creamery Meadow to Molera Beach: 2 miles roundtrip, easy. A stroll through Creamery Meadow to a driftwood covered Molera beach.

Molera 8-mile loop: 8 miles roundtrip, moderate to strenuous. A combination of the Ridge Trail, the Panorama Trail and the Bluffs Trail with great coastal views and beach access.

Many of the trails at Andrew Molera have mountain bike access. Directly across Highway 1 from Andrew Molera is the entrance to the Old Coast Road, which is also good for mountain bike riding.

Ventana Wildlife Society has their office and bird ornithology lab in Andrew Molera State Park.
Click Here to download a birder's checklist of all the birds known to exist in Big Sur.

---
Julia Pfeiffer Burns State Park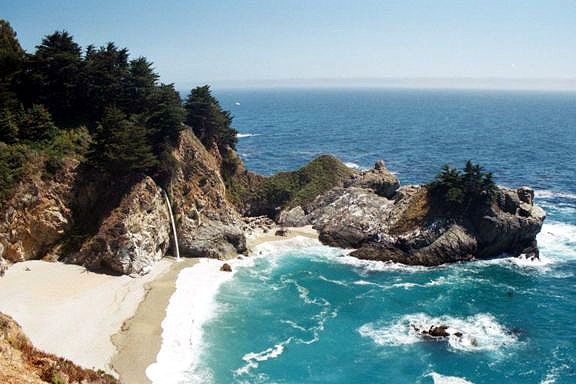 View from
McWay Waterfall Trail:
.64 mile roundtrip, easy. A quick walk to an overlook facing McWay Falls, an incredible 80-foot waterfall that drops directly onto the sandy beach.
Ewoldsen Trail: 4.5 miles roundtrip, moderate to strenuous. A loop trail starting in the redwood forest by McWay Creek and climbing to incredible coastal views. Photo: Brock Bradford.

---
Partington Canyon

Tan Bark Trail
A strenuous loop into the hills above Big Sur with amazing views along the coast as far as the eye can see. A difficult 6.4 mile hike. This tough climb away from Highway 1 will reward you with breathtaking views. The trail starts along Partington Creek - on the south side of Partington Canyon.
---
USFS Pfeiffer Beach
Directions: Travel 1/2 mile south on Highway 1, take 2nd right at single lane road. Two miles to the beach.


Pfeiffer Beach. Photo by Stan Russell

Looking for a local tour guide to maximize your time in Big Sur? Visit our Miscellaneous Services page to find local, knowledgeable (hiking) guides who can help you explore the beauty and wonder of the Big Sur region.

The Ventana Wilderness Alliance maintains an On-Line Trail Conditions Report of most, if not all, trails in the Ventana Wilderness Area. This is the place to check for the most current online information about trails.




Download our local Big Sur Visitors Guide in Adobe PDF.

Click Here to download a birder's checklist of all the birds known to exist in Big Sur.