---
The Ventana Wilderness owes its name to a dramatic mountain peak known as Ventana Double Cone. Legends relate that at one time the unique notch at the mountain's top was roofed over by a rock bridge. Because of this legend, the early Spanish inhabitants named the outcrop "Ventana," which means window in Spanish.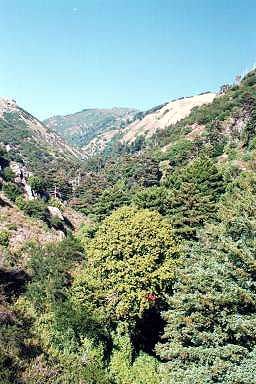 The Ventana Wilderness contains 240,026 acres straddling the Santa Lucia Mountains south of the Monterey Peninsula and is part of the Los Padres National Forest. Los Padres National Forest encompasses nearly two million acres in the beautiful coastal mountains of central California. The forest stretches across almost 220 miles from the Big Sur coast in Monterey County to the western edge of Los Angeles County.

Topography in the Wilderness is characterized by steep-sided, sharp-crested ridges separating V-shaped valleys. Elevations range from 600 feet, where the Big Sur River leaves the wilderness, to about 5,750 feet at the wilderness boundary circumventing Junipero Serra Peak. Most streams fall rapidly through narrow vertical-walled canyons flowing on bedrock or a veneer of boulders. Waterfalls, deep pools and thermal springs are found along major streams.

The climate is mild. Precipitation falls primarily as rain from November to April and ranges widely from more than 100 inches annually along the Coast Ridge to less than 30 inches only a few miles inland. The cool marine influence does not extend past the coastal ridges, thus most areas east of the divide are hot and dry during the Summer and early Fall.

Much of the Wilderness is covered by chaparral. Contrasting annual grass meadows and open pine stands may be found throughout the Wilderness. The deep canyons cut by the Big Sur and Little Sur Rivers support virgin stands of coastal redwoods. Scattered stands of the endemic Santa Lucia Fir are found in rocky outcrops and rugged slopes at higher elevations. This rare spire-like tree is only found in the Santa Lucia Mountains.

Contact Information & FAQ's
Los Padres National Forest or
call 831.385-5434
Los Padres National Forest maps, publications, alerts & notices, learning center, "about the forest," news and events.

FREQUENTLY ASKED QUESTIONS
1) Do I need a backcountry permit? No
2) Do I need a Campfire Permit? Yes, and you can download it here.
3) Do I need a campfire permit if I'm using a gas stove? YES
Hikers and backpackers can find solitude while enjoying the diverse natural features of the Santa Lucia Mountains. The 237 miles of trails provide access to the 55 designated trail camps.

The Pine Ridge Trail provides visitors to the Big Sur Valley with one of the most popular portals into the Ventana Wilderness. The recently opened trailhead at the Big Sur Station has excellent parking, plenty of water, and clean restrooms. The Nature Station Store, which is located at the Big Sur Station, provides hikers with maps and other literature associated with the natural history of the Big Sur region.
When hiking the trail please refrain from entering the campground section of the park. Try to keep your impact to a minimum. Pack out your trash and protect natural water sources. Water should always be boiled or filtered before drinking.

For information about convenient Big Sur day hikes.

Looking for a local tour guide to maximize your time in Big Sur? Visit our Miscellaneous Services page to find local, knowledgeable (hiking) guides who can help you explore the beauty and wonder of the Big Sur region.
WILDERNESS HIKING ASSETS:
Ventana and Silver Peak wilderness maps can be found at http://bigsurtrailmap.net/ with very useful illustrations of camps, water sources and points of interest.
November 7, 2017
Los Padres National Forest officials today issued a forest order to maintain a temporary closure of the Pine Ridge (Forest Trail No. E306), Terrace Creek (Forest Trail No. 3E22) and Ventana Camp (Forest Trail No. 2E14) trails, as well as Barlow Flat, Sykes, Redwood, Terrace Creek and Ventana Camps. Pine Ridge Trail is closed until November 6, 2018 because of the Soberanes Fire. Visit Los Padres National Forest website for complete details and map of closure.
Map of trail closures.
Backpacking areas that are currently open although they can be difficult to get to:
Silver Peak Wilderness and Cone Peak network.

Silver Peak Wilderness topographic map provided by Ventana Wilderness Alliance
Hiking to Sykes Hot Springs?

Sykes Hot Springs map
Sykes Hot Springs brochure provided by Ventana Wilderness Alliance (PDF 3.71Mb)

Ventana Wilderness Alliance maintains an online trail guide offering current trail conditions to Sykes Hot Springs as well as many other trails in the Ventana Wilderness, Silver Peak Wilderness, and Los Padres National Forest. It is a very valuable asset in educating yourself about the Big Sur backcountry.

Before hiking into the Ventana Wilderness area you'll need to pick up a free campfire permit or you can fill it out online and keep it with you. Wilderness permits are not needed. If you are entering the wilderness on the Pine Ridge Trail you can park your car at the Big Sur Station for $5.00/night, self pay/registration. Parking is closed to the public at this time because the Pine Ridge Trail is closed.
iPhone app and trail map to Pine Ridge Trail to Sykes Hot Springs




Download our local Big Sur Visitors Guide in Adobe PDF.

Click Here to download a birder's checklist of all the birds known to exist in Big Sur.